The Fourth International Seminar of Sound and Audiovisual Files in Mexico, November 2009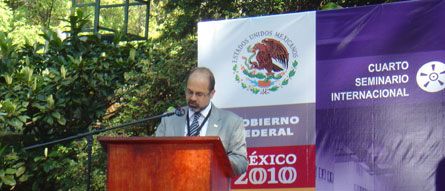 November 2009,
Mexico
The Fourth International Seminar of Sound and Audiovisual Files Concluded
Safeguarding the Patrimonies Sound and Audiovisual: A Worldwide Challenge
The venue is Mexico City. The host is The National Fonoteca of Mexico. About 30 experts participated at the seminar coming from Norway, Sweden, Australia, Germany, Austria, Bolivia, Brazil, Cuba, Chile, France, Finland, England, Peru, Switzerland and Mexico.
The seminar was carried out from November 9 - 13, 2009. About 300 people attended the seminar and the workshops. The agenda was very interesting dealing with topics like digitalisation of radio and television archives, metadata, selection issues, archive footage used in feature films, electronic music composition and the challenges of the new digital technology.
The representative of FIAT/IFTA, Amira Arratia, gave a speech on behalf of the President of FIAT/IFTA, Herbert Hayduck. Amira Arratia, Chile, is the Latin American contact person for the association. The seminar was chaired by the director of the National Fonoteca, Alvaro Hegewisch.
Sue Malden from FIAT/IFTA presented a paper on the challenges that the new digital technology pose to audiovisual archive managers.
Tedd Urnes and Amira Arratia. Photo by Lasse Nilsson. Santiago de Chile, 1998

My contribution to the seminar was a workshop dealing with two main subjects: Selection issues and archive footage used in movies. Amira Arratia assisted me chairing the debate in Spanish. To those of you who do not know her: She has been active in FIAT/IFTA for about 30 years. I met her for the first time in Spain, Santander, July, 1979.
It was nice to be back in Mexico. The contact with Perla Olivia Rodriguez and Lidia Camacho were made by me during a talk at FIAT/IFTA conference in Austria, 2000. We decided to set up a conference in Mexico City dealing with issues of interest for both radio and television archives and national archives. The reports of the work are published on the web site of FIAT/IFTA. Take a look and see for yourself. Even if I have taken an early retirement from Norwegian Broadcasting Corporation (NRK) , I am still in the business, so to speak and in contact with my friends in Mexico.
Attending all the lectures presented, I must admit that this is the best seminar I have attended!
An interesting programme dealing with many different issues. The administration of the seminar was splendid due the new director, Alvaro Hegewisch and Perla Olivia Rodriguez and the staff. Gracias, thank you!
The next Latin American seminar set up by FIAT/IFTA, is planned to late 2010 in Cuba.
Good luck to Amira Arratia and FIAT/IFTA.
Tedd Urnes